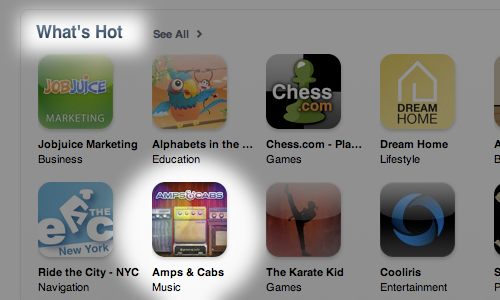 Rankings and Recognition Worldwide
Amps & Cabs™ has graduated from "New and Noteworthy" to "What's Hot" in both the US and Canada. Since yesterday, Amps & Cabs™ has also moved spots on the front page of the UK App Store from "New and Noteworthy" to the "Staff Favourites" section. Amps & Cabs™ is also currently ranked number 26 after climbing the charts to the 14 spot on the Top Paid Music Apps in the US. It's hard to keep up with all the iTunes Stores worldwide, so if you see something interesting, report a sighting!
v0.2 RE-AMPED Update
We are getting great responses to the v0.2 RE-AMPED update we recently submitted. The majority of you that own Amps & Cabs™ have already updated from v0.1 to v0.2 RE-AMPED and the feedback has been fantastic. Let's keep the conversation going. Tell us what you think via our Feedback page.
Rate, Re-Rate, and tell Your Mates!
If you love Amps & Cabs™, and haven't given it a 5 star rating yet, please do so by visiting the iTunes App Store. Help us get the word out!
If you are a fan of Amps & Cabs™, make sure to let others know by using the "Tell a Friend" function built into the App Store. Simply search Amps & Cabs™, select the app, scroll down to the ratings section and touch the "Tell a Friend" button.