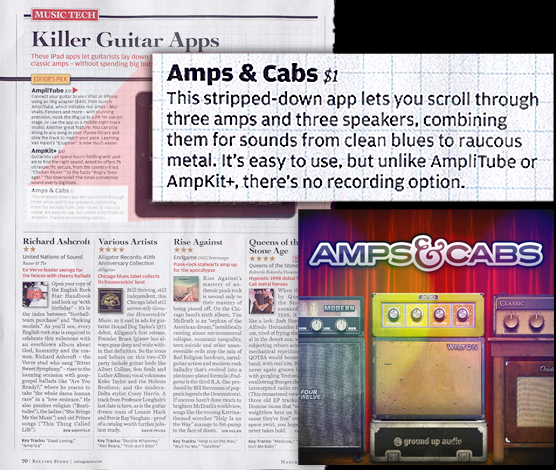 Amps & Cabs™ is featured in Rolling Stone Magazine! Our app is listed on page 70 of Issue 1125 1126 in an editorial review titled "Killer Guitar Apps" by Patrick Doyle. Our app was chosen as one of the top three guitar amp simulation apps for iOS and we are happy to have made the list.
Also, thank you to Rolling Stone Magazine for recognizing the impact our work and the efforts of the entire iOS developer community has had on music. Since music is crucial in defining the very nature of culture, these developments have changed the future not only for the music we make, but for our culture as well. We are proud to be a part of this movement of redefining the future by making better, easier, faster, and more portable ways to create and share music.
The latest issue of Rolling Stone hits the news stands today. Make sure to pick up your copy!
---
UPDATE: The issue to look for is the one with Snooki riding a rocket. If that's not your style, flip the magazine over to reveal an alternate cover featuring Wiz Khalifa. Remember when Rolling Stone covers had artists like Dylan and Hendrix? Yeah…