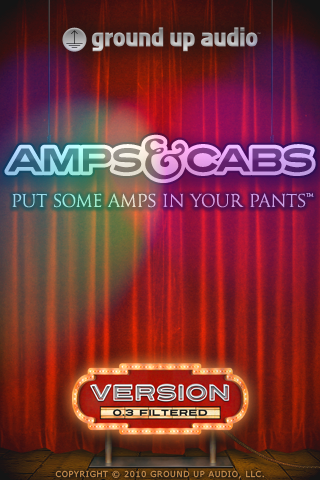 The Amps & Cabs app evolution continues! In Amps & Cabs V0.2 REAMPED we reworked our amp models to bring you thicker, fuller tones from already great sounding amp and cab combinations. Now we are proud to announce special new filtering tweaks in Amps & Cabs V0.3 FILTERED.
Why FILTERED?
For version 0.3 we once again went under the hood to take a closer look at how our app was performing on the various Apple Mobile Devices (AMDs) available on the market. We knew that the subtle hardware differences amongst these devices created unique, but predictable audio profiles that we could mostly compensate for in our software algorithms. We found that we were able to create a set of custom filters designed specifically for the various models to correct the equalization and volume discrepancies from device to device.
What does this mean for you?
After updating Amps & Cabs, the changes we made in this update may not be immediately noticeable, unless you had compared the performance of the app on several different AMDs using an earlier version of the app. Had you done such an experiment, you might have noticed the variances in input/output volume as well as frequency response (EQ) amongst the current range of iOS devices. With Amps & Cabs V0.3 FILTERED, we have done our best to compensate for these subtle, but noticeable differences so that every user will experience the same high quality results no matter which device is being used. Now the app will have nearly the same response if you are using an iPhone®, iPod touch®, or iPad™. You might also experience less internal feedback loops even at high volumes.
List of "FILTERED" Devices
iPad
iPhone 4
iPhone 3GS
iPhone 3G
iPhone 2G
Stay Updated!
We plan to include device-specific filtering in all of our future updates, even as Apple creates new iOS devices. To keep track of our developments, please "like" us on Facebook and/or follow us on Twitter.