Because so many of you have downloaded and helped to spread the word, Amps & Cabs™ moved into the number 20 slot on the Top Paid Music Apps list overnight. We are really happy to see our app doing so well and know that we could not have done that without all of you. Thanks for purchasing it and keep sharing Amps & Cabs™ so maybe we can crack the top 10. Here are three big ways to help us get there.
1. Rate and Review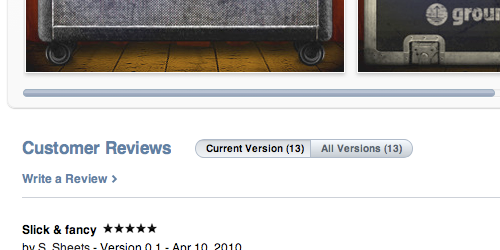 The best way you can help us out is by writing a favorable review of Amps & Cabs™ and giving the app 5 stars. It doesn't have to be anything fancy, just a sentence or two expressing your undying love for Amps & Cabs™.

Click here to view Amps & Cabs™ on the App Store.
2. Talk on Twitter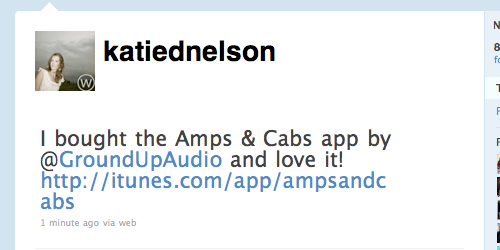 You can find us on Twitter as @GroundUpAudio. Then you can send out a tweet that says something like this: "I bought the Amps & Cabs app by @GroundUpAudio and love it! http://itunes.com/app/ampsandcabs"
3. Friends on Facebook
Facebook just replaced the Become a Fan feature with a Like button. Now is a good time to try it out and "like" us! You can find us on Facebook by clicking here. Be sure to tell your musician friends about us too.
Again, we want to thank you for putting our app Amps & Cabs™ up in the spotlight. We have a version 0.2 update submitted, so be on the lookout for that as well.